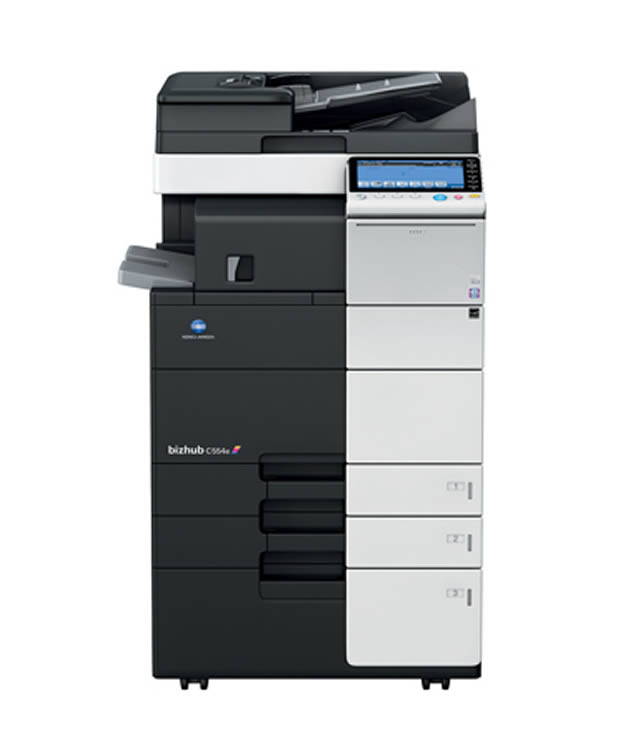 Konica Minolta Bizhub C284e Copier is an award-winning multifunction printer with laser copier technology that escalates business enterprises' productivity and flexibility. It is a colored printer, copier, scanner, and fax in one that produces high-quality prints with its color management and print queue functions. This copier is favored by companies that are just starting a business due to its affordable price without the sacrifice of the quality and the efficiency of performance that will suit a wide range of business needs.
Konica Minolta is also up for copier rental or copiers for lease that is considered as a cost-effective way to avail this copier with ease. Depending on the lease dealers, customers can lease Konica Minolta Bizhub C284 Copier from periods of three to six years that allows customers to easily upgrade older equipment whenever they want. Another option if you don't want long-term commitments is renting Konica Minolta Copier rental contracts that can be availed for short-term deals for specific jobs that can last for days or if you want you can expand it into months.
Konica Minolta Bizhub C284e Copier Best Features
1. It is an A3 multifunctional printer that can directly save scanned documents in Microsoft Office formats such as Word or Excel files. Users can now access and connect to the machine via Cloud, Google Apps, AirPrint, and MS Sharepoint which promotes a flexible and dynamic working system. It also has a 2048 MB of standard memory and 250 GB built-in hard drive to store all the important business documents of your company.
2. The copier can produce 28 pages per minute both for colored and monochromatic prints with 3650 sheets maximum paper capacity and can handle 75,000 pages per month. With optional dual scanning of DF-624 or RADF with high-speed scanning of 80 opm or DF-701 single-pass dual scanning of 160 opm and 1800 x 600 dpi resolution that makes the printing workflow of your business faster. The first page is out in less than 5.9 seconds for monochromatic pages and 7.7 seconds for colored pages. It also has a 50-sheet staple finisher with 80 page-booklet-making and punches kit options for convenient and organized finish.
3. It has a higher toner yield. The cost may be higher than other competitors but the copier produces higher tone yield that results in larger sheet capacity printing and lowers warm up time.
4. Konica Minolta Bizhub Copier has enhanced multi-touch interface panel similar to that of smartphones or tablets. It includes a nine-inch coloured and customizable touch panel with multi-touch support that includes drag and drop, pinch to size operations. You can also download helpful apps from the Konica Minolta Marketplace. It provides eco-friendly services. With its cost-efficient and low-cost operation, it optimizes power consumption mode and on-screen eco-indicator to monitor paper, toner, and energy usage. Konica Minolta Bizhub gained the Green Technology Energy Award with its eco-timer that minimizes the energy consumption with its automatic and adjustable sleep-mode timings.
5. This copier comes with its superior and fully certified ISO-15408 EAL3 security features that include ID cards, username and passwords access codes, and finger scans that ensure additional security for employers and other users. The information gathered in the internal hard drive is also encrypted and password protected that keeps the intellectual property safe from intellectual theft or illegal transmissions.
Common Issues Encountered with Konica Minolta C284e Copier and How to Solve It
Toner/Cartridge is Damaged
If you have encountered a printed job with no data printed on it or it is printed in jet black all over then there might be a problem in the toner cartridge. Here are the steps to follow to fix toner/cartridge issues:
Check the toner/cartridge if it has any damages. Replace it properly if it is damaged. The humidity of the place where you store the papers may also affect it. Replace damp paper with new and dry ones.
Printer Error / Postscript Error
Konica Minolta usually encounters Error Deletion or Deleted Due to Error (Printer Error) problems. It is caused by an incorrect configuration of the system settings or incorrect entries in the Windows registry. Try the following troubleshooting solutions below:
Try restarting both the computer and the printer. Check if there are incorrect entries in the Windows registry or if there are system settings that are configured improperly. If there are incorrect configurations, use a repair tool or you can also opt to manually repair it.
If a postscript error appears on the computer screen, there may be a problem with the availability of the computer memory, an error in the application software settings, or the file printing settings. Here are the remedies that you can try to resolve it:
Check if the machine is still capable of printing. If it can still print, this means there is no problem with the machine or printer driver. The problem may be memory storage.
Paper Jams/ Skewed Copies
It is when the paper is not fed to the machine correctly causing it to get stuck and get jammed. The best thing about this machine is that it tells you where the jam happened. Follow the steps below to resolve paper jams:
Look at the display on the copier to know where the paper jam happened. It may be on the drawers that hold the paper, the copier feeder, or the side compartment. After you have located the jam, all you have to do is to remove it. First, press the gray button located on the right side of the machine. To remove the jam from the feeder, gently lift the document feeder and remove the paper. If the jam happened at the deeper part of the machine, look for the green button that will open another compartment where the paper may have been stuck. Also, check if the paper you are using is dry and clean because damp paper can cause the papers to jam and produce bad quality prints or overexposed images.
Konica Minolta Bizhub C284e Copier is one of the best copiers in the market. Get yours now and start to notice a huge improvement to the overall work productivity in your office.
If you are looking for a Copier in Albuquerque, you can contact Albuquerque (505) 226-7177. You can ask about Copier Lease in Albuquerque, Copier Rental in Albuquerque, and even Copier Repair in Albuquerque.